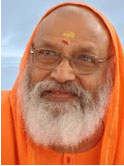 Swami Dayananda Saraswati (1930-2015) has been teaching Vedanta in India for more than five decades and around the world since 1976. In his public talks abroad, he has spoken at many prestigious American universities and has addressed international conventions, UNESCO and the United Nations, where he participated in the Millennium Peace Summit.
A teacher of teachers, Swami Dayananda Saraswati designed and taught six resident in-depth Vedanta courses, each spanning 40 months. Four were conducted in India, and two in the United States. Each course graduated about 60 qualified acharyas and teachers, who are now teaching around the world. More than one hundred are now swamis and are highly respected as scholars and teachers throughout India and abroad.
Under Swami Dayananda's guidance, numerous centers for Vedic teaching have been founded around the world. The three main centers in India are the Arsha Vidya Peetam in Rishikesh, the Arsha Vijnana Gurukulam in Nagapur and the Arsha Vidya Gurukulam in Coimbatore. In the U.S., the main center is the Arsha Vidya Gurukulam at Saylorsburg, Pennsylvania. At present there are at least sixty centers in India and abroad that carry on the same tradition of Vedantic teaching.
Swami Dayananda is a prolific writer who has written a number of books on various aspects of Vedanta. He is also a brilliant orator in English who takes his audience with ease to the unhorizoned realms of the Spirit. He is a voice of sanity, compassion and timeless wisdom in our troubled times.
Swami Dayananda Saraswati started an organization called All India Movement for Seva in 2000. Through this organization, Swamiji entered into the Social Service especially educate children who live in remote areas. The main aim of this organization is to establish a Student Home in each district of India. Now they have establish more than 100 homes throughout India.